Winter Driving Accidents
Feb. 18, 2022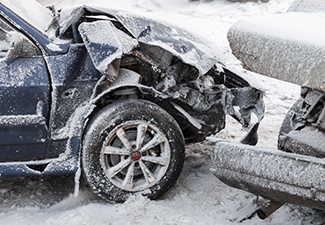 In New Jersey, the winter season is often cold and wet. Due to the snow, ice, and adverse weather conditions, driving during winter can be quite difficult. Over the years, winter storms, sloppy roads, icy roads, and bad weather conditions have caused several traffic crashes, personal injuries, and death. If you were involved in an accident caused by the winter conditions, you may be wondering who should be responsible for damages. A skilled New Jersey personal injury attorney can enlighten you about your possible options to file injury claims and seek fair compensation.
At Maran & Maran PC, I am committed to offering personalized legal guidance and compassionate representation to victims of winter-related accidents in their injury claims. As your legal counsel, I can review every aspect of your unique circumstances and explore your available options to recover damages. My firm proudly serves clients across Newark and throughout Northern New Jersey, including Sussex County, Hunterdon County, Warren County, Essex County, Mercer County, Somerset County, Morris County, and Passaic County.
New Jersey is a No-Fault State
New Jersey is a no-fault auto insurance state. No-fault means that your own auto insurance carrier will pay for medical bills and other accident-related losses, irrespective of the at-fault party. This is known as the Personal Injury Protection (PIP) coverage.
What's more, the PIP benefits will cover the following, up to the coverage limits:
Medical costs, such as medical services and medication, surgery, diagnosis, rehabilitative, and treatment costs.

Work-loss costs including lost income and essential service

Funeral costs - a maximum of $1,000 for funeral expenses.
However, the no-fault/PIP coverage in New Jersey does not cover non-economic damages resulting from the accident. Thus, you may be unable to recover compensation for your pain, discomfort, and suffering under the basic PIP policy.
Liability for Weather-Related Negligent Behavior
When the injuries and damages suffered in the weather-related accident exceed the maximum compensation allowed under your PIP coverage, you may be allowed to seek compensation by filing a personal injury claim. However, to recover damages, you may need to prove negligence against the liable party. Some actions that may be considered as negligence include:
Speeding

Driving under the influence

Reckless and Careless Driving

Distracted driving
When paired with winter driving, any aforementioned negligent actions could result in a traffic collision, personal injury, or death. An experienced attorney can enlighten you about car safety during the winter weather and help establish liability for weather-related negligent behavior.
New Jersey Chain Law
In New Jersey, chains are legal, but only under certain circumstances. According to New Jersey Revised Statutes Section 39:3-73:
"Motor vehicle tires may be fitted with tire-chains of reasonable proportions when roads, streets and highways are slippery, because of rain, snow, ice, oil, manner of construction, or other reasons… No person shall use any tire-chains so constructed or installed as to be likely to be thrown so as to endanger any person or property."
Minimum Tire Tread
Unfortunately, worn tires may cause reduced airflow or make your vehicle skid out in the rain or snowy roads. To mitigate accidents, most states have established different policies about the acceptable depth of a tire tread. In New Jersey, tires with a tread depth of at least two-thirty (2/32nds) of an inch are legal.
Tips for Driving in Winter Weather
Road conditions are usually terrible during winter. You should avoid any unnecessary travel or driving during bad weather conditions. However, if you must drive, here are some vital tips for driving during the winter weather:
Remove snow and ice from your motor vehicle.

Turn on your headlights.

Drive slowly and carefully.

Reduce your speed to the road conditions.

Keep an emergency kit in your vehicle. Essential items include a flashlight, cell phone charger, snow shovel, snacks, water, blanket, gloves, medications, extra warm layers of clothing, and booster cables.

Avoid passing between trucks in a snowplow formation.

Beware of plowing and spreading trucks.

Watch out for overpasses, slick bridges, and exit ramps.

Stay aware of your surroundings.

Avoid using cruise control when driving on snow and ice.
If another driver acted negligently and caused the accident or your injuries, you may be eligible to seek damages. A skilled car accident attorney can help protect your rights and help guide you through the process.
How an Experienced Attorney Can Help
Filing an injury claim for a winter driving accident often involves a lot of complexities. Insurance companies will consider the weather and road conditions but prove that you were negligent. Therefore, it is essential that you retain an experienced personal injury attorney for proper guidance and to determine the best way to proceed with your injury claims.
At Maran & Maran PC, I have the knowledge, resources, and diligence to assist and guide clients in their winter-related accident claims. Using my in-depth understanding of New Jersey laws addressing liability in personal injury cases involving winter driving accidents, I can guide you through the often complex injury claims.
Contact my firm – Maran & Maran PC – today to schedule a simple case assessment. I can seek to protect your best interests and offer you the support and reliable representation you need in your winter-related accident case. My firm proudly serves clients across Newark and Northern New Jersey, including Hudson County, Hunterdon County, Warren County, Bergen County, Union County, Monmouth County, Middlesex County, and Passaic County.