Statute of Limitations on Personal Injury Claims
April 10, 2023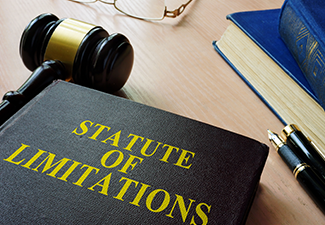 If you are injured as the result of someone else's negligence, you may be able to file a personal injury claim against that person's liability insurance to recover compensation for your damages. Your injury could occur as a result of a vehicular accident, a dog bite, a slip- or trip-and-fall, a defective product, or medical malpractice, among others. Regardless of the type of incident, New Jersey law generally allows injury victims to hold negligent actors financially responsible for the damages they cause.
The state law also establishes a statute of limitations on the time you have to pursue a personal injury claim. Failing to abide by time limits can take its toll on your ability to recover compensation. The sooner you begin, the better.
At Maran & Maran PC, I am a reliable personal injury attorney that help clients in Newark or any of Northern New Jersey's 13 counties, including Essex, Warren, Sussex, Passaic, Somerset, Hudson, Monmouth, Mercer, Hunterdon, Union, Middlesex, Morris, and Bergen, with navigating the personal injury claims process in New Jersey every day.
What Is the Statute of Limitations for Personal Injury Claims in New Jersey?
"Statute of limitations" is the establishment by law of the amount of time you have to file a lawsuit. New Jersey law establishes a statute of limitations of two years for physical injury caused by someone else's negligence.
In most cases, the clock begins ticking on the date you were injured, for example, from the date of a car crash. If the injury victim is a loved one who died as a result of their injuries, filing a wrongful death lawsuit needs to be done also within two years, but from the date of death, which may be later than the date of the actual accident.
Also, if you have a personal injury claim against a governmental entity or employee, you must serve notice of your intent to pursue a tort claim, or lawsuit, to the entity within 90 days of the injury.
Under the law, you must have settled your personal injury claim with the insurer of the negligent party or filed a civil lawsuit against the party within two years of the date of the accident that caused the injury. Once you file a lawsuit, the statute clock stops ticking.
What If I Missed the Deadline to File a Personal Injury Claim?
If you file a personal injury lawsuit after the statute of limitations expires, the court will dismiss your case unless there are any exceptions to the statute under the law. By not filing in a timely manner, you forfeit your right to sue the negligent party.
In most cases, your initial step will be to file a claim against the negligent party's liability insurance coverage. Then, your attorney will attempt to negotiate a settlement on your behalf. Your aim would be to agree to a settlement with the insurer prior to the expiration of the statute of limitations.
However, because the statute is brief and because filing a lawsuit may allow the insurer to quickly settle your claim, your personal injury attorney may discuss filing the lawsuit even while negotiating with the insurance company. Preparing lawsuits for trial takes time and money, so insurers will sometimes agree to the settlement you want to avoid going to court. Of course, if you put off filing the lawsuit, you lose that leverage in negotiations.
An experienced personal injury attorney like me understands how insurance companies operate. I also recognize all the signs of an insurer's reluctance to settle your claim for a fair amount of compensation. Those companies will attempt to use the statute of limitations clock against you, which is why you should retain the representation of a knowledgeable attorney as soon as possible after the accident.
Are There Exceptions to the Statute of Limitations in New Jersey?
There are limited exceptions to the statute of limitations on personal injury claims in New Jersey.
If your injury was caused by medical malpractice or a product defect, you may not be immediately aware of it. The cases are subject to a "discovery" rule. For example, a piece of gauze left inside your chest cavity following a cardiac procedure may not immediately cause symptoms that make you aware of the problem. Or a defective product that leaks toxins into the air in your home may sicken you over time. In instances such as these, the two-year clock does not begin ticking until the injury is known or should have reasonably been known about, rather than on the date of the surgery or the date of purchase of the product.
There are also exceptions if a victim is a minor at the time of injury or someone who lacks the mental capacity to understand their legal rights.
The two-year clock does not begin ticking for an injured minor until their 18th birthday. If the claim is based on medical malpractice, which injured an infant at birth, the lawsuit must be filed prior to the child's 13th birthday.
A mentally incapacitated person has two years from the date of having the ability to understand their legal rights to file suit.
Compassionate Legal Assistance
I understand that in the aftermath of an injury, the last thing on your mind may be talking to a personal injury attorney. However, your attorney will immediately begin doing all the items necessary to pursue compensation for your damages. I don't miss deadlines. If you have, I will explore every option possible to find cause for extending the statute of limitations in your case. You and I both want justice for the damage someone else has caused.
If you have been injured in New Jersey, do not wait any longer. Contact my firm, Maran & Maran PC, in Newark, New Jersey, right now.