Low Impact Accidents That Cause Serious Injury
March 17, 2023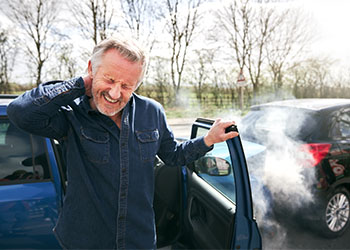 There's no such thing as a "good" car accident to be in. Even so, many people involved in a car crash falsely believe that just because they were traveling at a low speed or got away with only "minor" injuries they don't have much to worry about. This couldn't be further from the truth. In fact, low-impact accidents that result in serious injury are much more common than you might think and need to be taken seriously.
If you've recently been in an accident and want to speak with a personal injury attorney, call me today at Maran & Maran PC. From my home office, I'm able to help clients in Newark, New Jersey, and throughout the northern part of the state, including Warren County, Sussex County, Passaic County, Essex County, Somerset County, Hunterdon County, Mercer County, Monmouth County, Hudson County, Middlesex County, Union County, Bergen County, and Morris County.
How Minor Accidents Can Cause Serious Injuries
Even when going at very low speeds (say in a parking lot or slowing down for a red light), car accidents can still result in serious injuries, even if they don't result in serious property damage. Your car may be only slightly dented or dinged, but your body is much more fragile, especially during an unexpected crash. For example, if you've been rear-ended by another car that was only going 10 miles an hour, this could still cause a whiplash injury or back and neck injuries. These whiplash injuries can cause serious and lasting soft tissue damage and should never be dismissed without being evaluated by a medical professional.
Common Injuries That Can Result From Low Impact
The three most common injuries from low-impact crashes are whiplash, neck, and back injuries. Also, the treatment for these injuries can be extensive, requiring weeks or months of rehabilitation and medical visits. These injuries can also be exacerbated if you were already suffering from a stiff neck or bad back.
Steps to Take After an Accident
The first step to take after an accident is to see a doctor as soon as you can, even if you aren't feeling too much pain. Only a trained professional can determine the extent of your injuries, and it sometimes takes a while for an injury to manifest itself. It's also important to obtain documentation reflecting the diagnosis and treatment. This evidence can be crucial to your claim if the insurance company doesn't think the injury is serious. You will have to prove to them that you've been evaluated by a doctor and that your injuries are very real and are negatively impacting your life. Lastly, it's extremely important that you follow through with your treatment plan, or else the adjuster may dismiss your claim. If therapy or chiropractic services are suggested, complete them as directed.
Filing a Personal Injury Claim in New Jersey
If you don't receive adequate compensation from the insurance company, you always have the option to file a personal injury claim. The statute of limitations in New Jersey for this kind of lawsuit is two years, and it's almost always in your best interest to work with a car accident attorney when pursuing this. You'll want to make sure that the extent of your injuries and treatment are finalized before accepting a settlement. This is known as Maximum Medical Improvement (MMI), and until you know what this is, you won't know how much your settlement should be. Soft tissue injuries like these can affect your life for months and even years. You want to ensure you account for your cumulative expenses.
Get Trusted Legal Support
If you're in Northern New Jersey or Newark, New Jersey, reach out to me at Maran & Maran PC to discuss your options for compensation after a low-impact accident. I have the knowledge, practice, and skill to help you look toward a brighter future.