How Do You Know When To Contact a Personal Injury Law Firm?
Dec. 13, 2022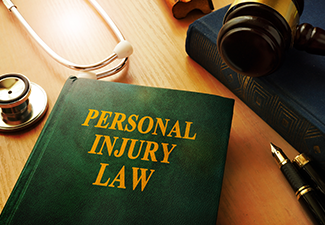 Auto accidents are among the leading causes of injuries and hospitalization in New Jersey and across the United States. According to New Jersey laws, accident victims may be eligible to seek fair compensation for their injuries through a claim. However, many victims are often confused about whether to handle their claims on their own or contact a personal injury law firm.
At Maran & Maran PC, I enjoy giving personalized guidance and vigorous representation to clients in their injury claims. As a skilled New Jersey personal injury attorney, I can investigate the details of your case, explore all your options to seek damages, and help pursue your deserved compensation.
My firm proudly represents accident victims in Newark and the surrounding areas throughout Northern New Jersey, including Union County, Middlesex County, Hudson County, and Essex County.
Common Personal Injuries
Personal injury is a legal term that is often used to describe any form of bodily injury or harm suffered by a person in an accident caused by someone else's carelessness, negligence, or wrongful actions. Here are some examples of personal injuries:
Premises liability

Product liability

Medical malpractice

Slip and fall accident

Dog bites

Wrongful death
If you or someone close to you have suffered a personal injury due to another person's negligent actions, you need to reach out to a skilled attorney right away. Your legal counsel can assess every detail of your unique situation and help you seek deserved compensation.
Knowing When to Contact a Personal Injury Law Firm
After an auto accident, victims are often confused about the next steps to take or how to proceed with their injury claims. Essentially, it is usually advisable to retain an experienced attorney to help with their personal injury claims or lawsuits. Here are some vital reasons to contact a personal injury law firm after an accident:
New Jersey is a No-Fault State
No-Fault is only about who pays your medical bills. In a no-fault state, it does not matter who causes the accident to determine where the injured person goes to have their medical bills paid.
So, if you have your own automobile policy, you go to your insurance company to pay your bills, no matter whether you were a passenger in another car or walking across the street and struck by a car.
If you do not have your own policy, then you are required to look to any relative that you live with that has an automobile policy and it is that insurance company which will pay your bills. A claim for PIP, or personal injury protection benefits is a claim primarily for your medical bills and is not supposed to raise the premiums or cost of that policy.
If you do not live with anyone who has an automobile policy, then you would turn to the automobile insurance company who insures the auto you are riding in.
Finally, if you do not live with anyone who has an automobile policy, and you were struck as a pedestrian or riding a bicycle, then the State provides coverage through NJPLIGA.
Call a personal injury attorney who can review these the rules and advise how you can obtain payment for your medical bills. Most personal injury attorneys will not charge you for a consultation.
Injuries are Serious
However, if you suffered serious injuries in the accident, you may need ongoing or future medical care, surgery, therapy, or other treatments. As a result, it may be complicated to recover damages. An experienced lawyer will make sure you have reached full recovery or maximum medical improvement (MMI) before negotiating or accepting a settlement offer from the insurer.
MMI is the stage at which your health condition cannot be improved any further. Upon attaining MMI or full recovery, your legal counsel can evaluate the magnitude of your injuries, medical expenses, lost wages, and other damages incurred and determine the rightful compensation amount. Also, your lawyer can help pursue non-economic damages, such as pain and suffering or loss of enjoyment of life.
You Don't Know Your Options
As mentioned earlier, an accident may leave you confused and unsettled. If you're unsure about your options to seek damages, contacting a personal injury attorney is right for you. Your lawyer can educate you about your possible legal options to recover compensation and determine the ideal choice for your unique circumstances.
Dealing with Insurance
However, dealing with insurance companies when seeking injury compensation often involves several complexities. Some dishonest insurers may try to lowball or negotiate using bad-faith tactics. Thankfully, an attorney can use their years of experience to negotiate with the insurance carrier and help maximize your settlement offer or file a lawsuit if necessary.
Things to Ask a Personal Injury Attorney
Here are some vital questions to ask a personal injury attorney before you hire one:
How long have you been practicing personal injury law?

Can you handle my case?

Have you handled a case similar to my situation before?

Do you work on a contingency fee basis?

What is the estimated value of my case?

What are your candid assessments of my case?

What is my role in the lawsuit?

What are the potential issues and difficulties you envisage with my case?

How long will it take to settle my case?

How much resources and time will you set aside for my case?

Do you think my case will go to trial?

Who will be responsible for case-related costs if I lose my claims?
Asking the aforementioned questions can help you make informed decisions when hiring an attorney to handle your accident claims. Call David Maran of Maran & Maran PC today to speak with him about your case.
Trusted and Experienced Legal Guidance
After an accident, hiring a practiced personal injury attorney remains a crucial step toward protecting your best interests and recovering damages. At Maran & Maran PC, I have devoted my career to providing outstanding legal services and protecting the rights of accident victims and their loved ones.
As your legal counsel, I can review the details of your case, conduct an in-depth investigation, and determine the best way to proceed with your claims. Using my extensive knowledge, I will guide you through the often-challenging New Jersey injury claims process. I will continue fighting for your rights and help you seek the financial justice you deserve.
Contact me at Maran & Maran PC today to arrange a consultation with a reliable car accident lawyer. I can offer you the trusted and experienced legal guidance you need in your accident claims. My firm proudly represents accident victims in Newark and the surrounding areas throughout Northern New Jersey, including Warren County, Sussex County, Morris County, and Ocean County.