Fatal Car Accidents
Dec. 15, 2021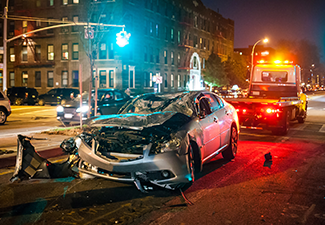 Being involved in a car accident can be extremely traumatizing, even if you escape with only minor injuries. But if someone you love lost their life because of a car accident, your life will be forever changed. I can walk you through the steps of filing a wrongful death claim and help you get the closure you need.
Even though I've centered my practice of Maran & Maran PC in Newark, New Jersey, I'm committed to serving everyone throughout Northern New Jersey, including but not limited to Essex, Somerset, Middlesex, Union, Bergen, and Passaic counties. Call me today for a consultation.
Fatal Car Accidents in New Jersey
Many times in a car accident, the insurance company of the at-fault driver will pay out a settlement to the injured party. Unfortunately, this payment often won't cover the expenses associated with a grave accident, and it then becomes necessary to file a wrongful death claim.
To file a wrongful death lawsuit, you first must understand how New Jersey defines "wrongful death." In the event of a car accident, you must prove that the driver's negligence caused the accident, and that accident resulted in the death of your loved one. It can be tricky to prove negligence in cases such as these, especially when there are few witnesses. To increase your chances of a successful claim, you'll need an experienced personal injury attorney on your side.
Most states have laws stating the deceased's spouse can file a suit on their behalf, but New Jersey is a bit different. Here, they only allow the deceased's personal representative to file. This person is usually named in a will, but if there is no will, a court will assign an administrator. This is typically the spouse or a close family member. The administrator or personal representative then has two years from the date of the death to file a suit.
Possible Damages You Can Recover
The amount of damages you can seek will depend on the details of the accident and whether you can prove full liability. Possible damages may include financial compensation for medical expenses, funeral costs, or lost wages; compensation for future lost wages (what the deceased could have earned had they lived); or, compensation for loss of companionship. Damages are typically awarded to the deceased's survivors which could be a spouse, children, or surviving parents or siblings.
Why File a Wrongful Death Claim?
It may seem futile to file a wrongful death claim. After all, there's nothing that will bring your loved one back, and no amount of money that can truly help heal this trauma. However, it can provide closure and help to prevent tragedies like this from happening to other families. It can hold the responsible party accountable and bring some aspects of this tragedy to a close.
It will also be hard to focus on financial obligations when you're in the midst of the grieving process, but the costs from accidents like this can be far-reaching and hard to predict. Knowing that you'll have a financial boost to cover all your expenses will bring you peace of mind and be one less thing you have to worry about.
Working With an Experienced Fatal Car Accident Attorney
After losing a loved one in a fatal car accident, you need to reach out for help. I've been a personal injury attorney for 30 years and know what it takes to mount a successful lawsuit in a fatal car wreck case. Call Maran & Maran PC today wherever you are. I serve clients throughout Northern New Jersey, including Middlesex County, Ocean County, Passaic County, Essex County, Somerset County, and more.