Don't Take the First Offer the Insurance Company Gives You
Jan. 30, 2023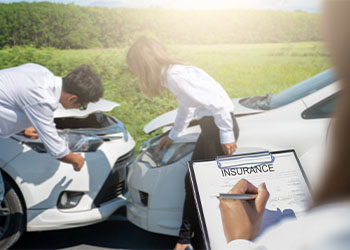 It's natural to feel frustrated—or even overwhelmed—after an accident. On top of expensive medical bills, long recovery processes, and a variety of other financial, physical, and emotional hardships, you have to deal with insurance companies. For instance, if you have been injured in a car accident and someone else was at fault, their insurance company should not get a "good deal" out of it. You should be compensated fairly.
As a personal injury attorney at Maran & Maran PC, I help car accident victims get the justice they deserve. My clients live or were injured in Newark or in any of Northern New Jersey's 13 counties, including Warren, Sussex, Passaic, Essex, Somerset, Hunterdon, Mercer, Monmouth, Hudson, Middlesex, Union, Bergen, and Morris. I'm a car accident lawyer who helps clients say no to unfair settlement offers and pursue what they really deserve.
How Will an Insurance Company Respond to an Accident Claim?
The insurance company that sold an auto liability policy to the person who caused your injuries will likely respond in extreme ways.
First, when you file an insurance claim, you may hear nothing for quite some time. You may make repeated calls, leave messages, send emails or letters, and get only a cursory response, such as "We have received your call and are looking into the matter." You may get no acknowledgment at all. The adjuster is hoping you will simply give up and go away. They will hope your personal injury protection (PIP) benefits aren't exhausted before you stop seeing a doctor and return to work.
The second way the adjuster might respond is to make you a "nuisance" offer immediately after your claim is filed, hoping you will take the money and run. Once you sign on the dotted line of the offer, you surrender every right you have to pursue your claim against the insurance company and its insured.
What you should do is contact a personal injury attorney to represent you. Once you do, the insurance adjuster is not allowed to contact you directly, only through your attorney. Moreover, because you have retained legal representation, the adjuster won't be able to ignore you, and won't be able to undercut the value of your claim.
Why Should I Refuse the Initial Offer?
Once that initial offer is made, rest assured it will be less than your claim is worth. Even if it sounds like a lot of money to you, it probably will not fully compensate you for your damages. Possible damages include your medical expenses, pain and suffering, and lost income due to being unable to work.
Because New Jersey is a no-fault state for auto accidents, your PIP coverage will begin paying benefits for medical expenses and lost wages. Taking any amount from the at-fault driver's liability insurer may seem like extra money in your pocket, but beware. You may well exhaust your PIP coverage long before you know the full extent of your injuries. That is why it is important to talk to an experienced personal injury attorney about the length of time it may take before you know the cumulative value of your damages.
At What Point Do I Know the Value of My Damages?
The opinion of the physicians treating you for your injuries will determine the point in time when your damages can be fully valued. Your doctors will need to decide when you have reached what is referred to as maximum medical improvement (MMI). MMI is not necessarily when you have returned to the same physical status as you were before you were injured. Rather, MMI is the point at which your doctor believes you have recovered as much as you can from your injuries.
For example, suppose you suffer a rotator cuff injury and torn knee ligaments in the car crash. You undergo surgery and physical therapy for months. At a certain point, your doctor and physical therapist determine that no further treatment can make you any better. Even though you continue to have knee and shoulder pain and limitation of movement, you have reached MMI.
What Happens After I Reach MMI?
Once you reach MMI, you and your attorney will discuss the value of your claim. Your attorney will draft a settlement demand letter providing evidence of liability on the other driver's part, detail your injuries and damages, including cumulative current and future medical expenses, and demand a certain sum in full and final settlement of your claim.
Just as you would not accept the insurance company's initial settlement offer, the adjuster may not accept your initial settlement demand. Your attorney will begin negotiating with the adjuster to settle on a sum the company will agree to pay and you agree to accept. That is always your decision, not your attorney's or the insurance company's.
If you cannot reach a settlement via negotiations, I will litigate your claim to the best of my ability.
Fight for What You Deserve
In a perfect world, those injured by others in car accidents would receive the financial compensation they deserve. The world isn't perfect, and insurance companies make money by paying injury victims as little as they can get away with.
Don't let them get away with paying you less than what they owe. Let me help you fight back. If you live or were injured in Newark or any Northern New Jersey county or community, call Maran & Maran PC today. Consultations are free, so reach out to me today.